Read an
article
about us from the Sky Hi Daily Newspaper
Greg Barnes, owner, and sons, Dustin and Patrick, restore juke boxes and pinball machines. They have managed a successful route, which also include video arcade games, for over 26 years. Greg is an avid collector of older collectibles and most of his favorites can be found inside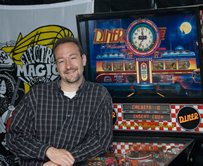 his mountain lodge that he owns. Greg, Dustin and Patrick buy older and pre owned pinball machines and restore them to excellent condition that any person would love to have as a collectible in their home game room. Please check back often as our stock changes from month to month.
Please be sure to look at all of our detailed and clear pictures . We are proud to offer you an American kept pinball machine. Each and every pinball we offer you have been kept in the United States since it was made. Please be aware of foreign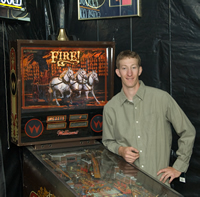 pinball machines that will offer you one or more of the following: brand new legs, brand new set of balls, or brand new coin door; the reason they offer you these items is because the legs and balls were so rusty from being over seas in the humidity or from sitting in a shipping container for six months with the humid salty air ruining the game. The reason for the new coin door is because the foreign coins will not support the make of American coin doors.

So many of the foreign pinball's are not in good condition because not only are the legs and balls rusty, but all of the metal that runs all the electronic equipment inside is rusty as well. Sometimes even the wood that makes up the cabinet has been subject to so much humidity that the wood is more like a squishy sponge.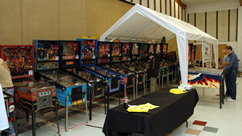 The Coin Drops Here attends the annual Rocky Mountain Pinball Showdown in Denver. This is a three day event where players can play for fun, test their pinball skills in the multiple tournaments for all skill levels and ages, buy and sell pinball machines, parts, and memorabilia, and attend PinChats -- free pinball seminars. Every April, we have a new selection of new and pre-owned pinball machines for players & buyers to choose from.
Want more info? Visit their website at www.pinballshowdown.com.


. . . . . . . . . . . . . . . . . . . . . . . . . . . . . . . . . . . . . . . .
Pinballs Roll in to Home Market
Grand Lake Father and Son Team Tilt Towards Private Arcades
by Tonya Bina, "Grand County Daily Tribune"

Standing in a room of lights, bells and mechanical voices hinting "play me," you can't help but dig into your pocket for quarters.
It's a subconscious reaction cultivated years ago, in the heyday of the arcade age — ringing bells, flippers, flashing lights, and silver-ball bullets disappearing into "game over." It's the type of rush Las Vegas slot machines bank on. Pinballs tease you with an extra ball to plunge into a world of bumpers, magical hideaways, roller-coaster curves and launch pads. But the day of PlayStation3, Wii and X-Box 360 is here, ushering pinball machines towards their fate: nostalgic icons of the past. Only one company in the U.S. even makes pinball machines anymore. When it recognized that leading manufacturers Bally, Williams, and Gottlieb wereno longer in the pinball business, Stern decided to take a pull and see where the ball rolled. But many predicted the game, as wonderfully mesmerizing as it is with combined timing, reaction and reward, could one day be obsolete. It's hard to imagine that dinging furniture of lights missing from the corner of the neighborhood pub, isn't it?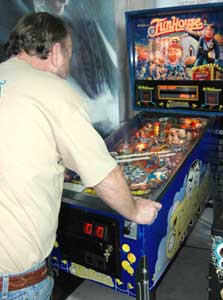 "You see, there's a flying jalopy, and each mark represents junk that you gotta collect to build a jalopy, then you collect fireworks to get boosted into outerspace." That's Dustin Barnes of Grand Lake explaining one of his favorites, the "Junk Yard" pinball machine, which he and his dad, Greg, have on display. Dustin said they sold a machine like it to a Denver junk yard owner.

The Barnes' have been facilitating arcade games in area businesses since 1979. They're embarking on a new venture in recognition that pinball machines have a place in the hearts of many, but won't be nearly as accessible in the future. Greg Barnes knows the type. He said he got started in the coin-operated business simply because he loves pinball machines. "I grew up with pinballs," he said. "The creativeness of each game and the individuality makes them fun to play." He and Dustin are making arcade games available to the residential market in response to a growing trend of full game rooms in homes.
The Coin Drops Here, currently has 130 pinball machines available, both new and classic models. They also sell pool tables, air hockey tables and old-favorites among the MTV Generation: Donkey Kong, Defender and Ms. Pac-Man (stand-up machine), which run about $700-plus a piece. Having such games could charge up the whole family: on holidays, grandparents could challenge gravity with plastic flippers and parents could direct a pie-head to eat yellow dots; meanwhile, with controllers, grandkids could execute 3-D bank heists in the living room. There's a pinball machine for every personality, including those that appeal to movie enthusiasts. The Indiana Jones game takes players through each movie and has a video component on the score board. In the Barnes' showroom there is a wide variety, from South Park to Fish Tales to Harley Davidson. They even have an Addams Family pinball, which, incidentally, was the highest-ever earning machine. "The hand (Thing) comes out of the box and picks up the ball, takes it under the box and shoots it out," Dustin explained.

Greg, who also collects swirly-lit Wurlitzer jukeboxes, has 25 pinball machines that he has kept for his own collection, dated from the '60s to the present. The '60s models predate the digital and video models that later came. Instead of an electronic display, they sport big mechanical wheels that keep score. One of the pinball collector's top favorites is currently on the showroom floor and is a creative Williams number, a Cony-Islandesque version called "Fun House." A large ventriloquist-looking head sits under the glass. He's called "Rudy the Amazing Mechanical Man" and razzes the game player with outdated slang like: "Heads up bucco." As the silver ball ricochets off rubber bumpers and lands in desirable sweet spots of the game, Rudy progressively gets meaner. What'd I ever do to you?" he asks, or exclaims, "Get yourself a hotdog!" Eventually, with various ramp shots and targets, the player excels to a point when Rudy mumbles "Oh, so sleepy," closes his eyes and falls asleep with his mouth wide open — inside of which there is an open trap door. If the Fun House player succeeds in landing the silver ball inside Rudy's mouth, Rudy suddenly wakes up, eyes wild, and spits up the silver ball. Simultaneously, lights flash, bells sound, music crescendos, and three other silver balls are ejected into play. "Once you're in the multi-ball area, you go for the jackpots," Dustin explained as his dad flipped his way to a higher score. Meanwhile, Rudy heckled.
Doomsdayers may be overstating the waning popularity of pinball. Although they have not yet reached ESPN-broadcast status, pinball tournaments yield pinball champions year after year. Part of the Barnes' endeavor is machine restoration. They replace worn rubber pieces and lights and make minor wire repairs on models that were rough-handled in bars. And for those who desire game nostalgia in their homes, the Barnes' have a limited warranty on machines. A used or new pinball machine runs anywhere from $600 to $6,000, depending on the condition, and, for the p-wizard in the family, makes a great holiday gift.